Forty-one years in the waiting, Georgia has its national championship. And now it has its championship rings.
Georgia football's national championship rings went public 4 18 2022 with the seniors and others who moved on from the Bulldogs showing off their new bling.
Georgia's football Twitter account put out a hype video on Monday afternoon about the rings.
The rings for Georgia's first national title since 1980 were designed by Jostens, the Minneapolis company that also came up with the Atlanta Braves' 2021 World Series rings.
And now, let me show the details of ring to you.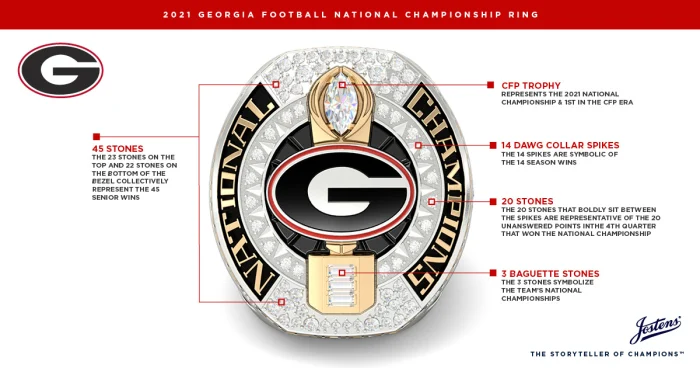 The front also shows the College Football Playoff Trophy and three baguette stones for the three national championships in program history with the Georgia G in between them. The 14 wins for the 2021 team are represented by 14 "Dawg collar spikes" and there are 20 stones between the spikes for the 20 unanswered points in the fourth quarter of the national title game.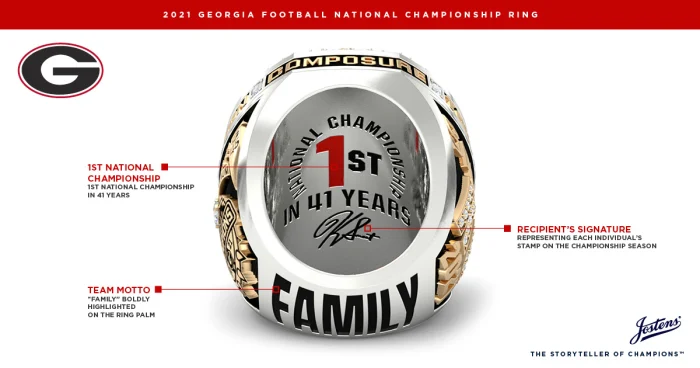 The four characteristics that the team talked about all season wrap the edges: resiliency, toughness, composure and connection.
The underside of the ring notes Georgia's first national championship in 41 years and the word family is also written on the ring palm.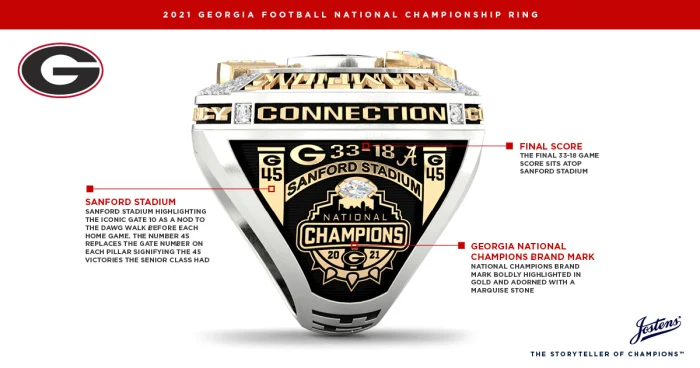 One side has the "33-18" score from Georgia's title win over Alabama and the Bulldogs' national championship brand mark highlighted in gold "adorned with a marquise stone." Each player or coach's name is on one side above either their jersey number, title or initials highlighted in stones.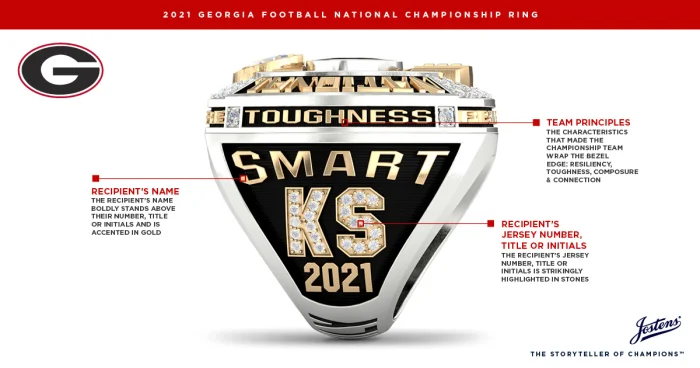 And My favorite detail on this ring, the 20 stones that represent the 20 unanswered points the Bulldogs scored over the game's final nine minutes, turning an 18-13 deficit into a 33-18 victory. This part not only shows people the beauty of jewelry, but also shows people the team culture, I think it's perfect and worth collecting.