Someday you may find yourself in a restaurant, an airport or a store with a member of the 2021 Atlanta Braves. You might remember him from that joyous throng bouncing around on the grass at Minute Maid Park in Houston after winning the World Series. And if you shake his hand, you might notice something missing.
The championship ring. Everybody wants it, but good luck finding someone who wears it.
"I haven't worn it or looked at it since we got it," said Alex Bregman, the third baseman for the Houston Astros, whose season ended with a 7-0 loss in Game 6 on Tuesday. "I've been focused on the next one."
His ring, from 2017, is something like the sun: Bregman can always bask in its glow, but it's very bright and he cannot look at it. The ring has 112 diamonds on top, one for each of the Astros' victories in the regular season and playoffs that year. It also has an inscribed slogan, "Earned History," which took on a bitter irony after revelations of the Astros' electronic sign-stealing scheme from that season.
In Houston, at least, fans still revere the ring. A giant replica sits on the sidewalk outside the park, on Texas Street, beside bricks honoring the former president George H.W. Bush and his wife, Barbara, who were dedicated Astros fans. In some ways, World Series rings are largely about connecting with fans, those loyal but unlucky folks who never get to win them.
Of all the World Series rings that have been presented over the years, the 2003 ring given to members of the Florida Marlins is considered the most extravagant. Victor Baldizon/Getty Images
"Some of these guys would wear it quite often, but I feel like I'm showing off," said Rod Gaspar, a spare outfielder on the 1969 Mets, at a team reunion two years ago. "But a guy I've done business with over the years, he said, 'Rodney, you need to wear the ring, not for you but for other people, because they've never seen a World Series ring.' Very few have seen one."
Steve Blass, who won the clincher for the 1971 Pittsburgh Pirates, went on to have a long career in the team's broadcast booth. He wore the ring to work, he said, and delighted in showing it to fans he met at the ballpark. It also came in handy in another job, for Josten's, the ring company, after his pitching career ended unexpectedly because of wildness in 1974.
"The fact that I could wear one helped me out, although the kids were wondering, 'What's this World Series hero doing selling high school class rings?'" Blass said. "I got a lot of funny looks. But Jostens liked to hire ex-professional athletes because they knew what it's like to get their butt kicked and get up out of bed and get in the car and go out and work. You know winning and losing, so you're not devastated when you don't get a sale."
In the mid-1970s, Blass was not selling the kinds of rings teams distribute today. The Los Angeles Dodgers' 11-carat rings from 2020 — 222 round diamonds, 10 princess-cut diamonds, 45 custom-cut genuine sapphires and 8 round genuine sapphires — came in a box with an interior LCD screen that plays a four-minute highlight video, with sound, when opened.
And that ring is not even considered the gaudiest. Jeffrey Loria, an art dealer who owned the Marlins in 2003, commissioned a championship ring with 228 diamond chips and 13 rubies, part of a massive showpiece with the team name displayed across a twisting fish, with a teal diamond as its eye.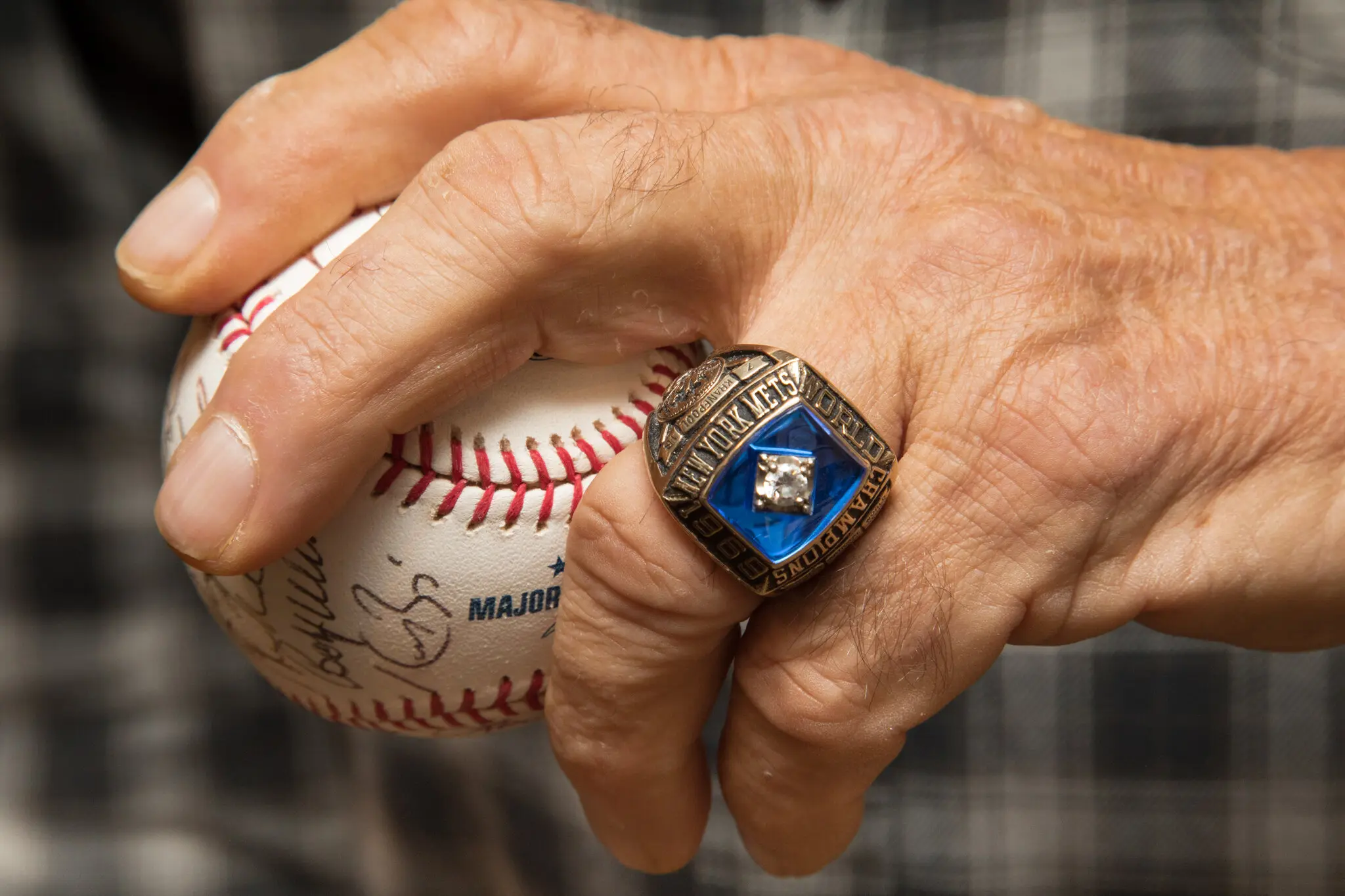 While nowhere near as ostentatious as the rings of today, the one Ed Kranepool won as a member of the 1969 Mets did not exactly blend in.Uli Seit for The New York Times
The Braves were similarly generous in 1995, awarding rings to minor league staffers like Brian Snitker, who is now their manager. Snitker keeps it in a lockbox.
"I sat next to Bob Gibson the year after I was inducted, and I had a championship ring on; I didn't have my Hall of Fame ring," Schuerholz said. "I sit down and he says, 'Where's your Hall of Fame ring?' I said, 'Well, I didn't know if it was appropriate to wear.' He said, 'Let me just say one thing: everybody in this picture today has lots of rings. No one will you ever see wearing a ring other than this one, because there's no greater honor — for individuals, or for the team you represent or the organization you helped build.' I said, 'OK, Bob, I got that.'
"That intensity from Bob Gibson, that resonated with me. I wear this every day."
Reprinting :Tyler Kepner